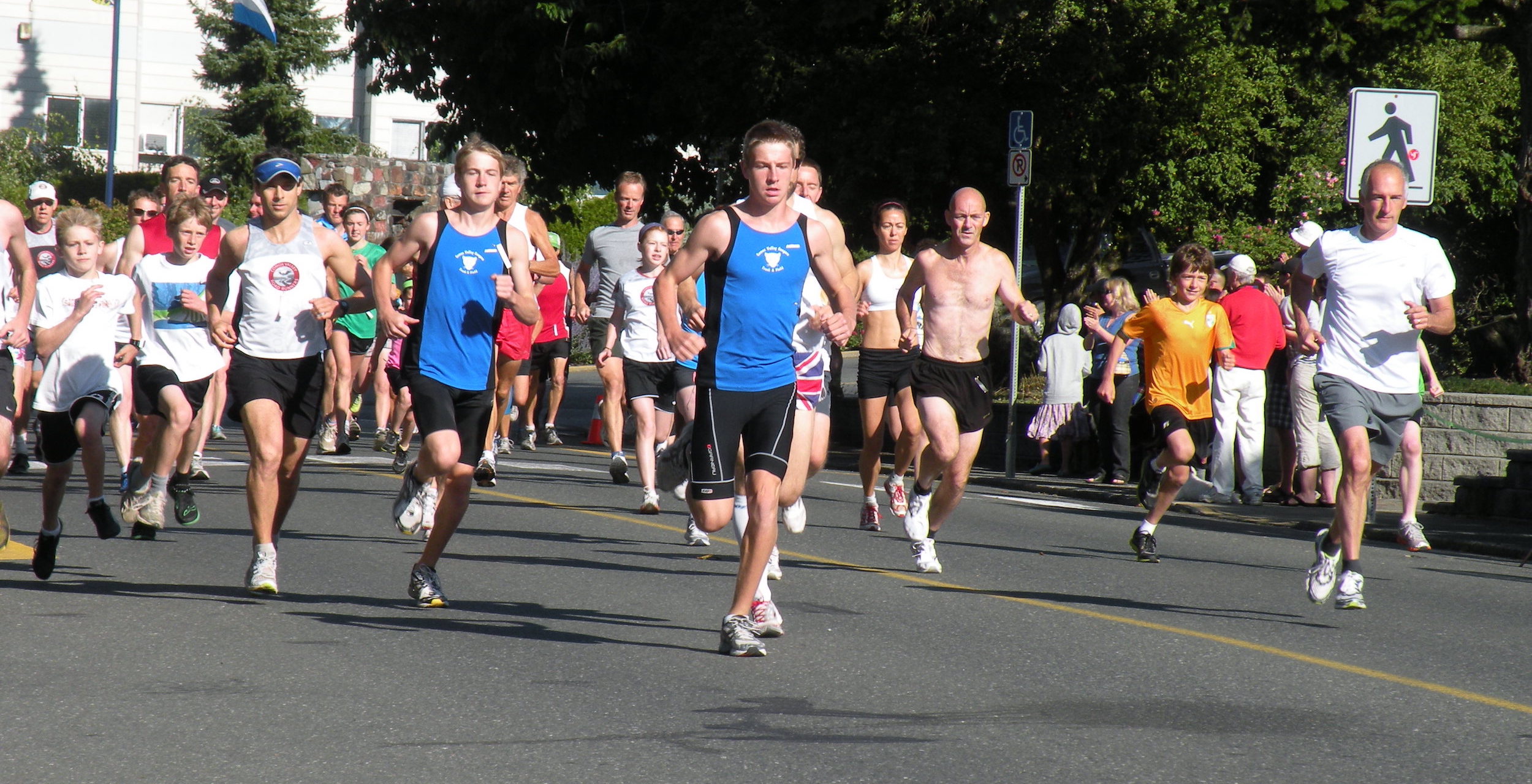 Nautical Days 4-Miler 2022
52 years consecutive years makes this the oldest race in BC, running since 1971! This short 4-mile (6.4km) distance is geared toward the whole family. Elite runners love it too.
The Start line is Downtown Comox in the action of the Nautical Days Festival and blocks from the picturesque Comox Harbour. The rolling streets offer stunning views of the Salish Sea and Beaufort Mountain Range. Butchers Rd. is a spectacular stretch with a mix of Douglas Fir, Pine and other native species on both sides to give the feeling you are running through a forest – so refreshing during August heat. A prime downhill finish we all love in a race – that gentle, perfect grade that you can really open up if you wish to finish hard!
Join us for Comox's premier running race this August long weekend!
Nautical Days Festival
This race is a big part of The Nautical Day Festival, one of the largest in Comox. The events take place throughout the BC Day Weekend with over 100+ market vendors, fireworks, children's activities, beer gardens and more. More info on the festival can be found here: https://www.comoxnauticaldays.com/
Awards
Top male/female
Ribbons to 4th place based on age categories
No team awards for 2022
Race Route Info
Roads are not closed to traffic during the event, so please follow the instructions of signage and our course marshals.
Here is a course preview: https://vimeo.com/572751827?fbclid=IwAR2DswqJV4PHbFP1EvndkD0NGG_sq2Ld6z9EVO6ybqV2M3Cix-C6Oo7vDQk
Shirts
Register by July 10 to receive a uniquely designed Nautical Days 4-miler T-Shirt.
Draw Prizes
All registrants that show up on race day will be entered in for various draw prizes from our local sponsors, but you must be present to win.
Please stop in to these generous businesses:
Blue Heron Books, Island Affair Gift Shop, Comox Bike Company, The Comox Grind, OMG Macarons, The Soup Shack & Sea Breeze Boutique, Mercedes Lane, Church St. Taphouse, Nearly New Books, Bosley's Pet Store, New Tradition Brewing, Blackfin Pub, Tidal Café, Dogs Do Smile, Sheila Nelson (artist), Debra Arsenault (artist), Comox Valley RV 1/2 Marathon, The Cumby, The Perseverance Trail Race, Lupine Art Studio, CVRR Backyard Ultra, Extreme Runners
Special thanks to 4-Miler Main Sponsor:
Post-Race Food Provided By:
Water Provided By:
Contact
For questions, please contact Leslie Dargie (Race Director) at [email protected]