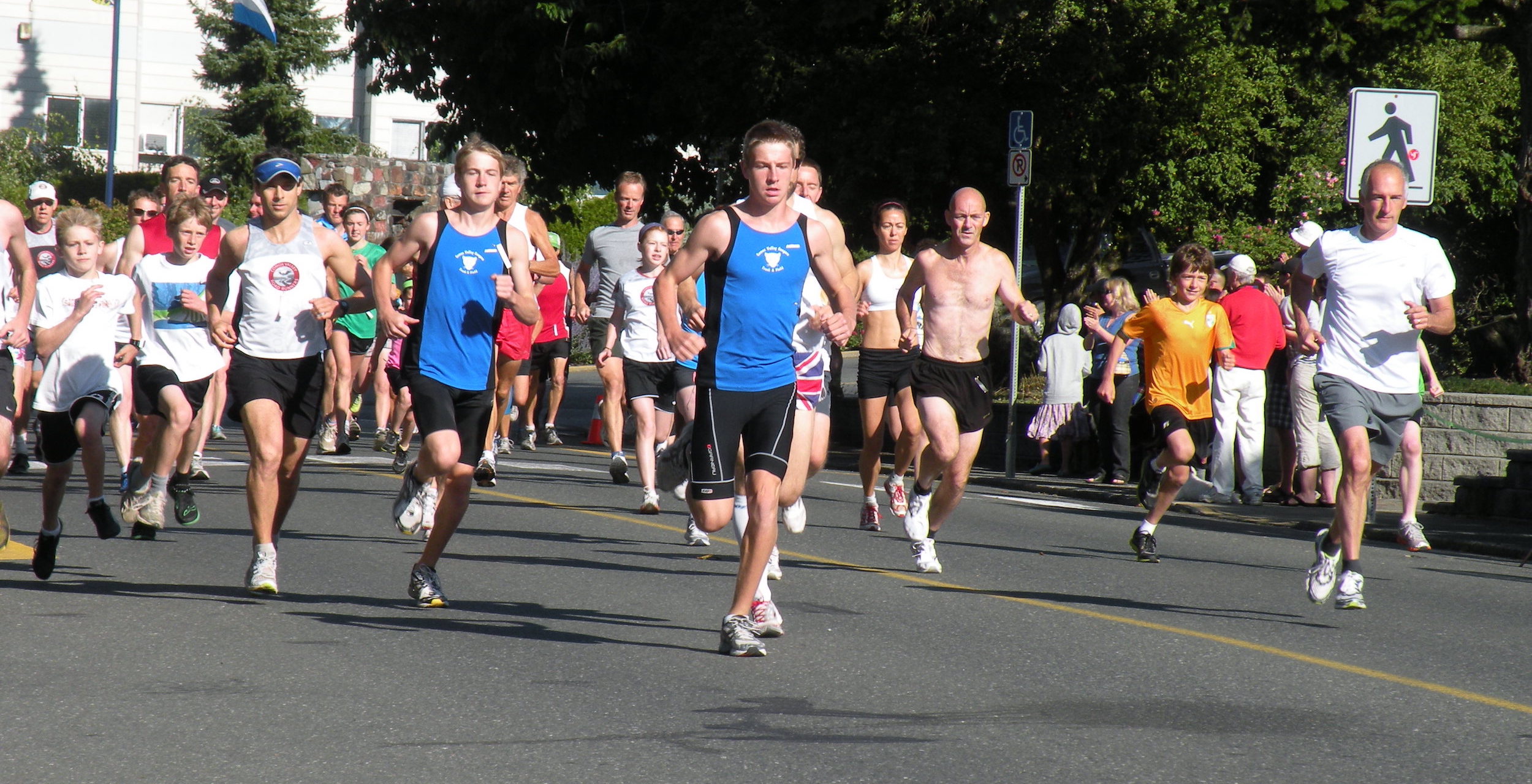 Nautical Days 4-Miler 2023
Thank you, runners and volunteers, for participating in Comox's premier running race this August long weekend! We look forward to seeing you next year!
What better way to celebrate British Columbia's birthday than to take part in a true BC legacy event! The 53rd Annual Nautical Day's 4 Mile Foot Race, the oldest continually held running race on Vancouver Island, is held annually on BC Day in downtown Comox. Old and young have charged through the streets of Comox since this great event started in 1971.
This short, 4-mile (6.4km) distance, is geared toward the whole family, offering fun and challenge for all pace levels. The start line is at the Town Hall in downtown Comox. From there, you will run along rolling streets through lovely neighbourhoods. You will catch some stunning views of the Salish Sea and Beaufort Mountain Range in the course of the route. Butchers Road is a spectacular stretch with a mix of douglas fir, pine, and other native species on both sides to give the feeling that you are running through a forest – so refreshing at the 2.5K point! At 4.5K, you will reach the water station. If it's hot (it usually is,) don't hesitate to experience the sprinkler here as well. Shortly after that, a kilometre-long gentle downhill will lead you to the final flat and fast 200 metre sprint to the finish line. Just right for your perfect finish!
Après race food and beverages are served to all racers in the finish area, located at 1770 Comox Avenue (i.e., the corner of Comox Avenue and Port Augusta Street.) Awards and draw prizes are set to begin at 10:00am.  The Nautical Days Parade begins at 10:30 and flows right past our finish site, so you are invited to stay and join in on the day's activities. This is the race for you on the August long weekend! Join us in beautiful Comox, B.C.
Race Route Info
Here is a course preview: https://vimeo.com/572751827?fbclid=IwAR2DswqJV4PHbFP1EvndkD0NGG_sq2Ld6z9EVO6ybqV2M3Cix-C6Oo7vDQk
Previous Results